Sorry I have been MIA for the last week or so. It is times like these that I really appreciate a best friend that picks up the slack when you can't be bothered to do anything or are just plain uninspired.

One of the reasons i've been missing is I'm starting a fabulous new job in a few weeks doing PR and events and I have had a few preliminary events as a warm up. One of these events in particular absolutely blew my mind so much that I had to share it with you.

New York based chef,
Pichet Ong
, came out to Australia for the recent International Sydney Food Festival and for one night only he took over the stove in
Sean's Kitchen
to cook a sensational gastronomic delight for a few special media and the lucky me. The food was out of this world! So i secretly stole the menu and wanted to share it with you (I wish I was able to take photos but that would have been kind of weird).
Butternut Squash & Coconut soup, tonka bean, amaretti crumbs

2008 Josef hromy 'Pepik' sparkling rose, Tasmania

Crab salad, beets, Avacado, Tarrago, Passionfruit, Green Apple Mousse

2008 Josef Chromy sauvignon blanc, Tasmania

Rice Flake Crusted kingfish, Watermelon, Curry, Radish cress

2008 Josef Chromy sauvignon blanc, Tasmania

Crispy pork two ways, papya, frisee, macadamia ginger vinaigrette

2005 Josef Chromy 'Zadar' reisling, Tasmania

Duck Bisteeya, Cocoa Crusted Breast, Peas, Mole spices

2005 Josef Chromy 'Zadar' pinot noir, Tasmania

Shaved Manchego, Arugla, Kumquat, Pomegranate

2008 Josef Chromy pinot noir, Tasmania

Chevre Cheescake, Walnut, Basil, vanilla Roasted Pineapple

2008 Josef Chromy 'Delikat' reisling, Tasmania

White miso semifreddo, olive oil cake, chocolate, blood orange sorbet

2008 Josef Chromy botrytis reisling, Tasmania

Chocolate cup cake and cookie.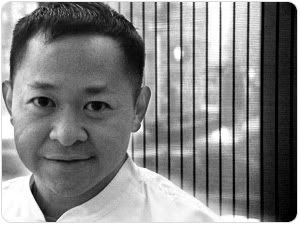 To say that I was full at the end is the understatement of the century. I almost rolled out of there. But it was soooooooo worth it! The duck had a stripe of chocolate across the plate which complemented the crust perfectly. The chevre cheesecake was beyond bliss and the cupcake and cookie was served at the end all bloken up on one share plate becasue Pichet believes that different people like different parts of the cookie. Some like the squishy bit on the inside and some like the crunchy bit on the outside. I went straight in for the squishy bit. AMAZING!! His food is what Sydney is missing in the resturant scene.

Laura xxx

P.S. Make sure you go to Pichet's website - there are a few really awesome recipie's on there.
http://www.pichetong.com/home.php
"Simplicity is complexity resolved" - Brancusi