Regardless of the season, lip gloss, stain or stick is a must. Here are a few of my Summer favourites...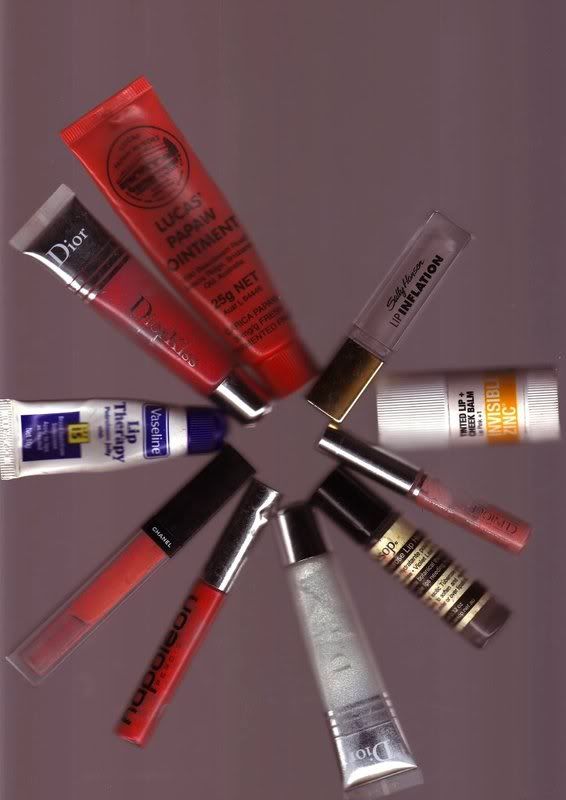 Clockwise from top:

Sally Hanson Lip Inflation

I've already blogged about this sticky plumping gloss, still a summer fave although not really suitable for the beach or windy days. awesome over lipstick for ultra shine.
Invisible Zinc, Tinted Lip and Cheek Balm

Love love love this product. Works like a stain/cream blush on the cheeks and is an absolute dream on the lips - although I should warn that unless you have naturally super moist lips you'll probably want to use in conjunction with a clear moisturising balm/gloss (I like to use the Vaseline Lip Therapy) over the top as it had the propensity to dry my lips out a bit.
Clinique lip gloss in Peach Plump

Such a pretty shade, gives only the slightest pinky hugh to the lips.
Aesop Tuberose Lip Heal

I won't go on about this one as I've mentioned it on this blog before - absolute lip must have. Abosrbs quickly, more of a treatment than a gloss. It's a conditioner for your lips.


Dior, DiorKiss in 008 Lemon Sorbet Meringue and also778 Red Currant

The best thing about this lip gloss is the smell. No. 008 smells like lemon delicious and tastes just as good. Unfortunately it was a little thicker and sparklier than I had anticipated (what was I expecting with a description like Diamond Sparkles??) It'll stay on for a good few hours though, and on the face of any loved ones, clothing, etc.
Napolean Perdis, Satin Lips in Alexis

This is such a gorgeous shade, if you want a sheer cherry hue, just apply to the bottom lip and press lips together. If you apply a few coats, you'll get a lovely dense red/coral gloss. The only down side is that if you do apply a thicker coat or two, you'll need to keep reapplying constantly throughout the day/night.
Chanel, Brillant Levres, no. 68

Sooooooo lovely. I have nothing to complain.
Vaseline Lip Therapy (clear)

My all-in-one gloss coat and lippy sunscreen, I would be lost without it! VLT stays in my bag ALWAYS and if I have dry elbows, it'll sort that out for me too :)
Lucas Paw Paw Ointment

A cult favourite. The paw paw actually acts as a tenderiser and so maked the lips feel softer, although I don't know so much about whether it actually nourishes the lips. Either way it comes in a pretty red tube. I gave it to a younger cousin for his scratched knee and it seemed to help speed the healing process along quite nicely.

C xx